Steakhouse Iceberg Salad
This classic modern salad is even more delicious when you make your own dressing and croutons. Iceberg still retains its popularity, accounting for 70% of lettuce raised in California. Today's variety of iceberg lettuce surfaced in the late 1940s, and the wedge salad—garnished with creamy dressing—shows up in 1950s and 1960s menus, and remains popular even today.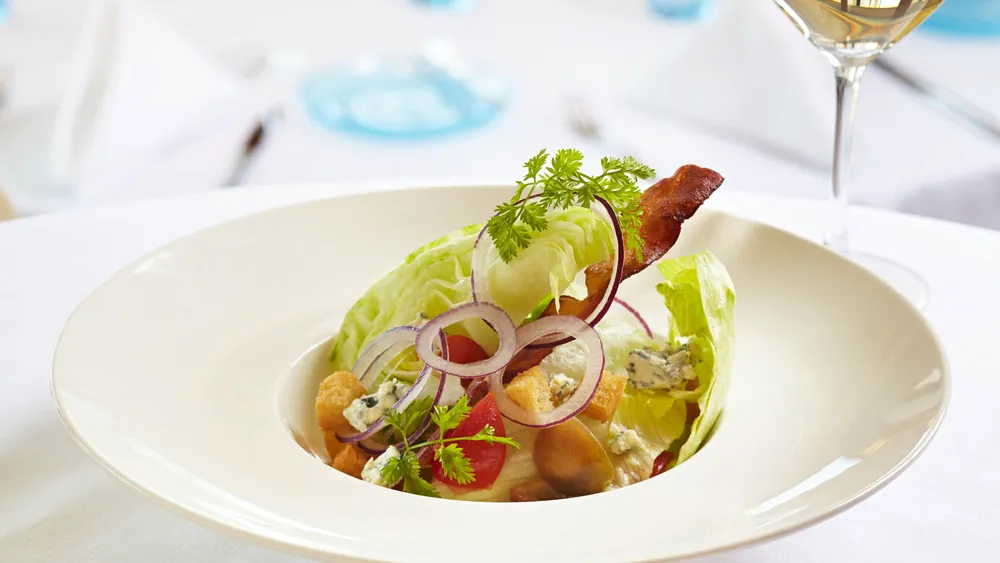 Ingredients
Croutons
4 thick slices French or Italian bread, cut into cubes
1 Tbsp (15 g) unsalted butter, melted
1 Tbsp (15 ml) olive oil
Dressing
1 C (250 g) blue cheese, crumbled
1 Tbsp (17 ml) sherry vinegar
2 Tbsp (25 g) mayonnaise
¾ C (175 ml) buttermilk
⅛ tsp (0.5 g) cracked black peppercorns
½ tsp (1.5 g) garlic, chopped
Salt and pepper to taste
Assembly
½ C (50 g) heirloom multicolor cherry tomatoes, cut in half
1¼ lb (600 g) iceberg lettuce, root removed and cut into 10 small wedges
5 slices bacon, cooked
½ C (100 g) red onion, very thinly sliced
⅓ C (50 g) Roquefort, crumbled
5 sprigs chervil
Directions
Croutons
Preheat oven to 325°F (165°C). Place butter and oil in a small bowl; add bread cubes; toss to coat. Place on baking sheet, bake until golden brown and crispy, about 7 minutes; set aside.
Dressing
Place blue cheese, vinegar and mayonnaise in a food processor and pulse 4–5 times. With machine running, gradually add buttermilk and blend until smooth. Season to taste with salt and pepper.
Assembly
Place 2 wedges of lettuce in shallow bowls. Arrange tomatoes and croutons around lettuce. Top each plate with a slice of bacon, red onion, Roquefort and chervil. Drizzle with dressing; serve immediately.
Prep time: 30 minutes.
Cook time: 7 minutes.
Makes 5 servings.