Autumn Panzanella
The first panzanella salad was an invention of necessity in the 16th century, enabling Italian cooks to make use of stale bread as well as garden vegetables. Our unusual autumn variation brings together the vibrant colors and flavors of a fall garden, and can even serve as a hearty vegetarian lunch.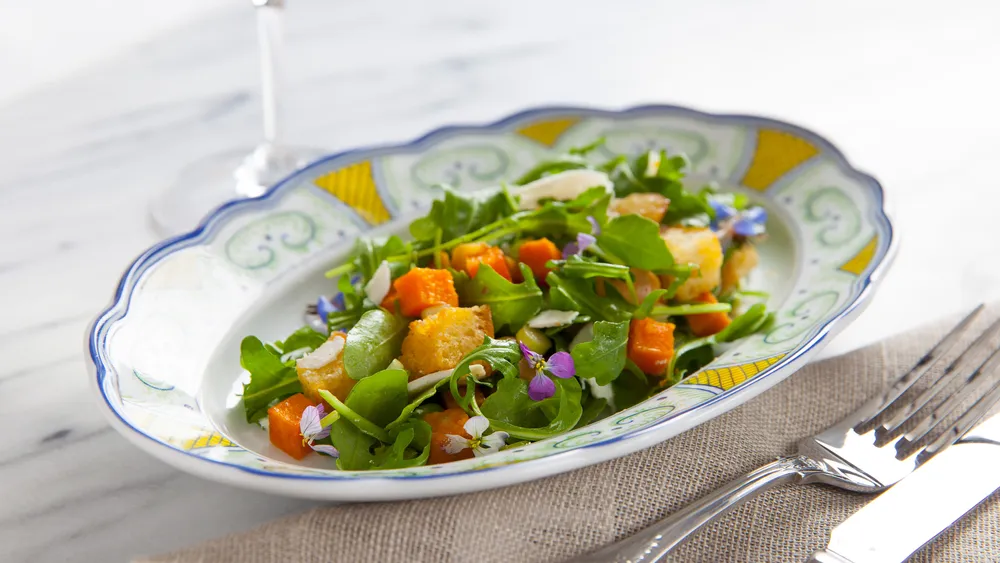 Ingredients
Croutons
2 Tbsp (30 ml) extra virgin olive oil
5 roasted garlic cloves, mashed
3 C (216 g) ciabatta bread, cut into 1-in (2-mm) cubes
Kosher salt to taste
Vinaigrette
2 Tbsp (31 g) Dijon mustard
¼ C (59 ml) white balsamic vinegar
Kosher salt to taste
¾ C (177 ml) canola oil
10 sage leaves
Freshly ground pepper to taste
Salad
Extra virgin olive oil, as needed
1 C (140 g) butternut squash, peeled and finely diced
Kosher salt to taste
½ C (70 g) parsnip, peeled and finely diced
15 oz (425 g) can gigante or other large white beans, rinsed and drained
¼ C (18 g) green onions, thinly sliced
4 C (80 g) loosely packed mesclun mix or arugula
Freshly ground pepper to taste
2 oz (57 g) ricotta salata, shaved
Directions
Croutons
Preheat oven to 350°F (176°C). Place a large oven-safe skillet over medium heat, add olive oil and mashed garlic, stirring to combine. Add bread; season with salt. Stir occasionally until bread is golden on several sides, about 3 minutes. Place skillet in oven and bake, stirring once or twice, until bread is golden brown, about 7 minutes. Remove from oven; transfer to paper towels to cool.
Vinaigrette
Place mustard, vinegar and a few pinches of kosher salt into the work bowl of a blender. With motor running on medium, slowly drizzle in half the canola oil. Add sage leaves, turn up speed to high and drizzle in remainder of oil. When all oil has been incorporated, vinaigrette should be pale yellow-green and thick enough to coat a spoon. Adjust seasoning with salt and pepper.
Salad
Place a large frying pan over medium heat and add a thin film of olive oil. When hot, toss in butternut squash and a few pinches of kosher salt. Cook until golden brown along edges, stirring frequently, about 7 minutes. When squash is tender, transfer to paper towels; cool to room temperature. Repeat process with parsnips. When ready to serve, place croutons, squash, parsnips, beans, green onions and greens in a large bowl. Add vinaigrette to taste; toss; season with salt and pepper. Divide among plates and garnish with ricotta salata before serving.
Serving Suggestion
This salad makes a superb starter for any meal, or add grilled chicken to make the dish a meal in itself.
Prep time: 22 minutes.
Cook time: 25 minutes.
Makes 6 servings.