Fegato Alla Veneziana
This specialty comes from Venice, where it is a traditional accompaniment to Risi e Bisi, but it also works well on a bed of polenta or all on its own. Some versions include a splash of lemon juice vinegar, or wine as well, so feel free to experiment a bit and see which you prefer.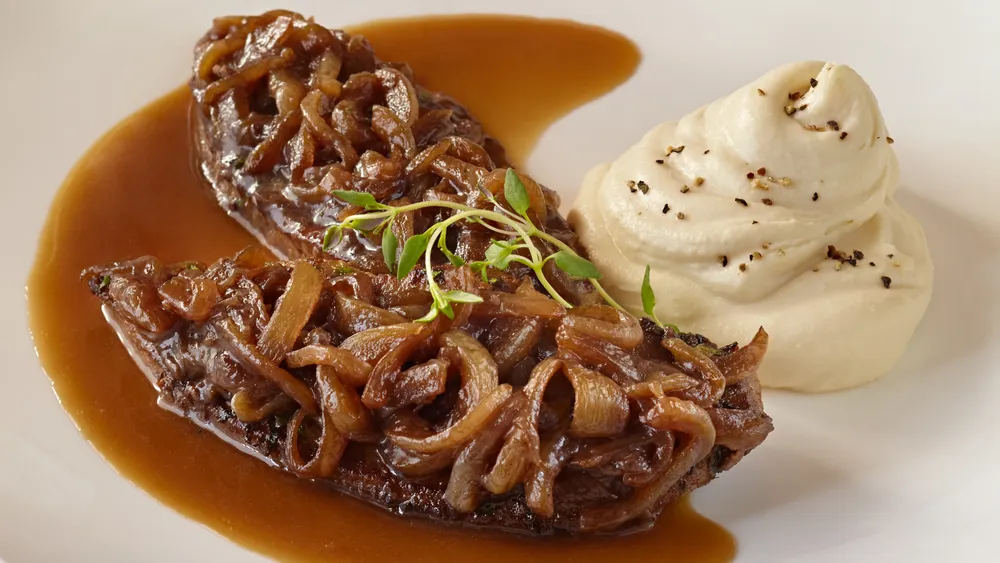 Ingredients
1¼ lb (570 g) calves' liver, membrane removed
6 Tbsp (90 g) extra virgin olive oil, divided
1 large white onion, thinly sliced
Salt and pepper to taste
2 Tbsp (30 g) unsalted butter
¼ C (10 g) flat leaf parsley, minced
Directions
Cut liver in half lengthwise and then crosswise into very thin slices. Place 2 T (30 g) oil in a large skillet over medium low; add onions and cook, stirring occasionally, until deep golden brown, about 15 minutes. Transfer onions to a bowl, cover loosely; set aside.
Place 2 T (30 g) oil in same skillet over medium high, add half the liver and cook until it becomes opaque and slightly crispy around the edges, 3–5 minutes. Transfer to bowl with onions. Repeat with remaining oil and liver. Return all onions and liver to skillet, season with salt and pepper and cook, stirring constantly, for 2 minutes. Remove from heat; transfer to serving plates. Place butter in same skillet over medium, stirring to loosen any browned bits stuck to skillet bottom; remove from heat; stir in parsley and spoon over liver and onions. Serve immediately.
Prep time: 7 minutes.
Cook time: 28 minutes.
Makes 4 servings.