Chicken Trinidad With Orange Rum Sauce
The fresh, tropical flavors of Caribbean regional cuisine are a lively delight, and this delicious recipe is no exception. A splash of rum is often found in traditional Caribbean recipes and this sweet, creamy orange rum sauce is the perfect complement to the lightly spiced, coconut-dipped rounds of chicken breast mixed with almonds and apple.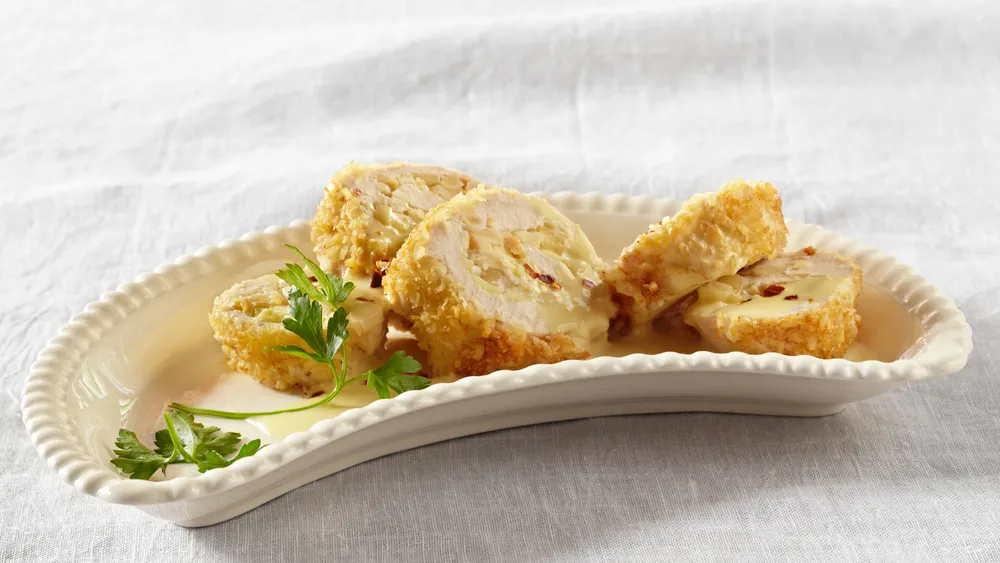 Ingredients
Chicken
4 6-oz (170-g) boneless chicken breasts
2 Tbsp (30 ml) Angostura bitters
Salt and freshly ground pepper
1 lg apple, peeled and finely diced
¾ C (129 g) almonds, chopped
Canola or vegetable oil for frying
1 C (125 g) flour
3 lg eggs, beaten
1 C (75 g) grated unsweetened coconut
Orange Rum Sauce
2 C (473 ml) orange juice
¼ C (57 ml) rum
⅔ C (173 g) unsalted butter, cut into small pieces
¼ C (59 ml) heavy cream
Plating
Crushed red pepper flakes to taste
Chopped parsley to taste
Directions
Chicken
Preheat oven to 350°F (177°C). Pound chicken breasts flat, brush with bitters; sprinkle with salt and pepper. Spread apple and almonds over breasts and roll, securing ends with toothpicks. Heat 3 inches (7.6 cm) of oil in a large deep saucepan over medium until oil reaches 350°F (177°C).
Meanwhile, place flour on a plate, eggs in a shallow bowl and coconut on a plate. Dip each breast in flour, shaking to remove excess. Dip in egg, then roll in coconut. Using tongs, lower chicken into oil and fry, 2 pieces at a time, until golden brown, about 4 minutes. Transfer to a baking sheet; bake until done, about 17 minutes. Remove from heat; cover to keep warm.
Orange Rum Sauce
Bring orange juice to a simmer over medium heat; cook until reduced by half, about 10 minutes. Add rum; cook 5 minutes. Remove from heat, whisk in butter a little at a time; stir in cream.
Plating
Pour a little sauce on each plate, slice the breasts diagonally and arrange on sauce. Garnish with red pepper flakes and parsley; serve immediately.
Prep time: 15 minutes.
Cook time: 20 minutes.
Makes 4 servings.