Black Grouper
Enjoy grouper in this spicy preparation featuring lemon juice, garlic, pink peppercorns and cayenne, nestled in a tangy, flavorful lemon sauce. A native tropical fish, the black grouper can be found near Caribbean coral reefs. Flambéed grilled plantains sweetened with brown sugar make a delicious Caribbean accompaniment.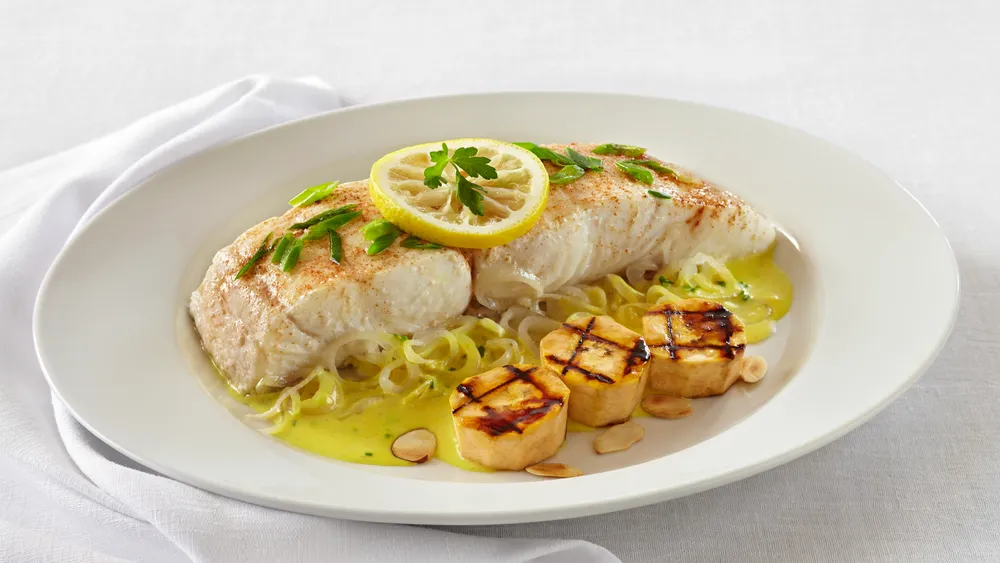 Ingredients
Black Grouper
1¼ C (300 g) shallots, finely sliced
Juice of 2 lemons
¾ C (170 ml) olive oil, divided
1½ tsp (15 g) freshly ground pink peppercorns
Salt and cayenne to taste
10 cloves garlic, crushed
10 6-oz (170-g) grouper fillets
Freshly ground white pepper to taste
3 scallions, finely sliced
3 lemons, sliced crosswise
Grilled Plantains
2¼ lb (1 kg) plantains, nearly ripe
½ C (100 ml) olive oil
4½ Tbsp (65 g) butter
2½ Tbsp (35 g) brown sugar
2½ Tbsp (35 g) lemon juice
¼ C (50 ml) dark rum
¼ C (35 g) slivered blanched almonds, toasted
Lemon Butter Sauce
¾ C (165 ml) white wine
2 Tbsp (30 g) finely chopped shallot
1¼ C (300 ml) heavy cream
⅔ C (150 g) cold butter, diced
Zest of 1 lemont
Juice of ½ lemon
2 Tbsp (5 g) finely chopped chives
2 Tbsp (5 g) finely chopped dill
Cayenne and salt to taste
Plating
¼ C (10 g) chervil leaves
Directions
Black Grouper
Preheat oven to 350°F (176°C). Cut 10 squares of parchment paper about 3 times as large as fillets. In a bowl, combine shallots, lemon juice and olive oil; add pink peppercorns, salt and cayenne; let stand 5 minutes. Spread shallot mixture over center of each parchment piece; add garlic; top with fillet; season to taste with additional salt and white pepper. Arrange scallions and lemon slices on top. Fold and roll paper to seal; transfer to baking sheet; bake 10–12 minutes or until cooked through.
Grilled Plantains
Peel half the plantains; cut into ¾ inch (2 cm) thick slices, brush with olive oil and grill, making checkered grill marks on both sides. Transfer to a baking sheet; keep warm in a 300°F (150°C) oven. Peel and dice remaining plantains. Place butter in a large skillet, add fruit and cook 3 minutes, stirring frequently; add sugar, stirring until dissolved. Stir in lemon juice; add rum; flambé. Stir in almonds. Remove from heat; set aside (flames go out once alcohol has burned off).
Lemon Butter Sauce
Simmer wine and shallot over medium until almost all liquid has reduced. Stir in cream; simmer until thickened. Reduce to low; add butter a few pieces at a time, whisking to incorporate after each addition. Remove from heat, continuing to whisk until butter is fully incorporated; stir in lemon juice, zest, chives and dill. Season with cayenne and salt. Serve hot.
Plating
Spoon Lemon Butter Sauce onto plates. Place diced plantains on sauce and top with grouper. Garnish with slices of grilled plantains and chervil. Serve immediately.
Prep time: 30 minutes.
Cook time: 25 minutes.
Makes 10 servings.