Traditional English Summer Pudding
A seasonal dessert made with sliced bread and summer fruit, this English classic dates back to Victorian times. Summer pudding highlights the fresh flavors of plump, juicy berries, while crisp, delicate phyllo, crunchy pistachios and heavenly whipped cream complete this British favorite.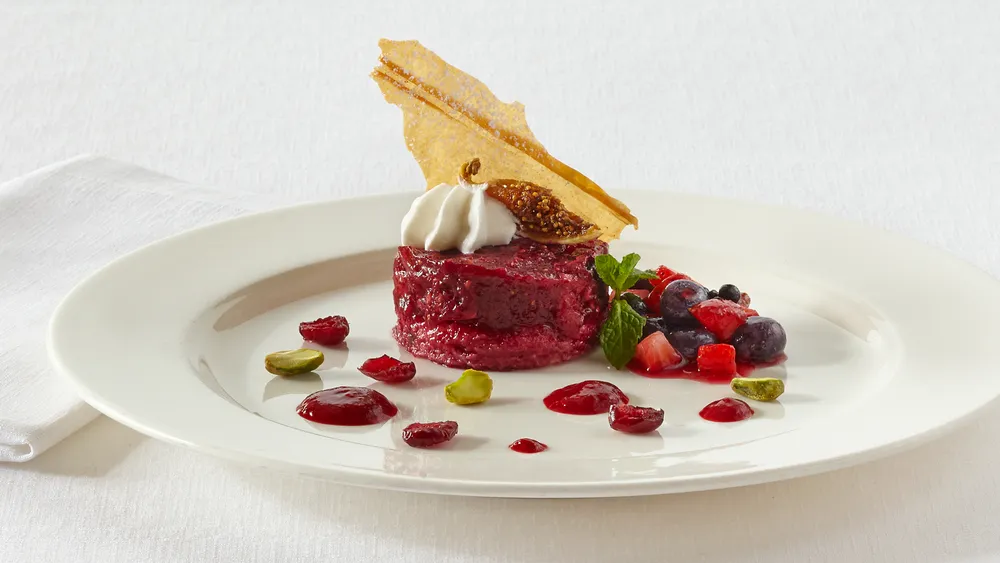 Ingredients
Summer Pudding
¼ loaf brioche, crust removed
⅓ C (75 ml) water
½ tsp (1.5 g) pectin
2½ Tbsp (30 g) sugar
½ C (60 g) strawberries, diced
½ C (60 g) raspberries
½ C (60 g) blueberries
½ C (60 g) blackberries
½ C (80 g) figs, diced
1 sheet gelatin
Phyllo Crisp
¼ sheet phyllo dough
1 Tbsp (15 g) unsalted butter, melted
Berry Compote
1 Tbsp (20 g) strawberry jam
2 strawberries, diced
2 Tbsp (25 g) blueberries
Plating
½ C (50 g) whipped cream
1 fig, cut in 5 wedges
2 Tbsp (30 ml) raspberry sauce
2 Tbsp (15 g) dried cranberries
1 Tbsp (10 g) pistachios, coarsely chopped
2 Tbsp (15 g) confectioners' sugar
5 sprigs fresh mint
Directions
Summer Pudding
Slice brioche and cut with a 3-inch (7.6-cm) circle cutter; place inside 3-inch (7.6-cm) ramekins. Combine water, pectin and sugar, add strawberries, raspberries, blueberries, blackberries and figs; heat gently just until juice releases from berries. Remove from heat, strain over bowl. Dissolve gelatin in liquid, combine berry and gelatin mixture, spoon into ramekins and chill 1 hour. Reserve leftover berry mixture for compote.
Phyllo Crisp
Preheat oven to 350°F (170°C). Brush phyllo with butter, bake 12–15 minutes. Break into pieces.
Berry Compote
Combine reserved berry mixture, strawberry jam, strawberries and blueberries.
Plating
Remove pudding from ramekins, place on plates. Add whipped cream rosettes, fig wedges, raspberry sauce, cranberries, pistachios and compote. Dust with confectioners' sugar; garnish with mint.
Prep time: 15 minutes.
Cook time: 18 minutes.
Makes 5 servings.