Suksessterte
In its native Norway, this gluten free "success tart" is a common sight at celebrations ranging from weddings to office birthday parties. Moist, fragrant almonds can be found both in the sponge and generously spread across the top and sides, making for a delectable dessert suitable for any occasion. When Norwegians settled in the Upper Mississippi region, they brought this taste of their homeland with them, and today this Norwegian culinary treat can be found in local bakeries throughout Wisconsin and Minnesota.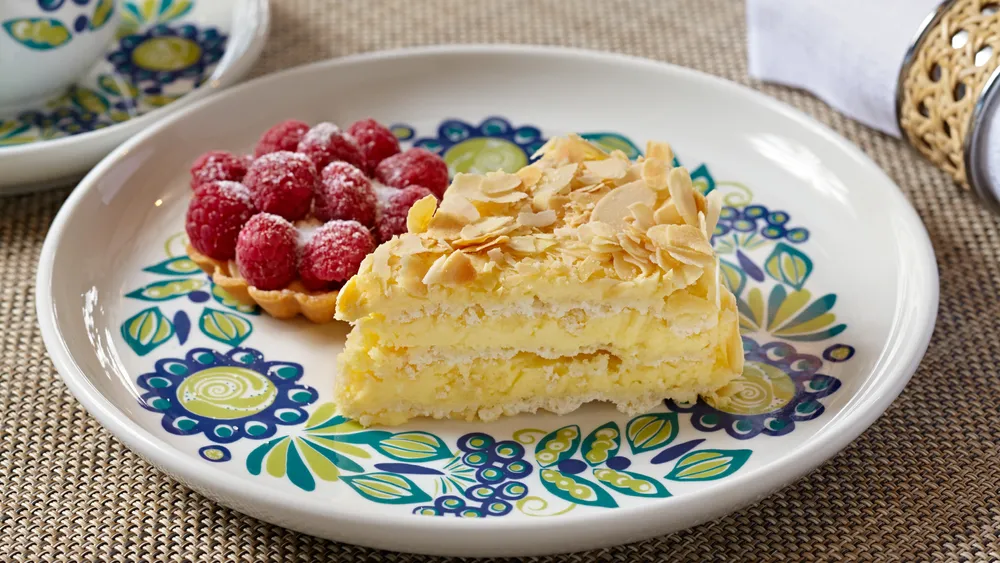 Ingredients
Vanilla Cream Filling
2 whole vanilla beans
2⅛ C (425 g) sugar
1⅘ C (425.5 ml) heavy cream
15 (225 g) med egg yolks
2⅓ C (530 g) unsalted butter
Sliced Almonds
1–2 C (120–240 g) sliced almonds
Sponge
15 (450 g) med egg whites
4¾ C (600 g) powdered sugar
6¼ C (600 g) extra fine almond flour
Directions
Vanilla Cream Filling
Slice vanilla beans lengthwise; scrape out seeds. Add sugar, heavy cream and vanilla seeds to a pot, bring to boiling, strain over egg yolks, mix to combine; chill in refrigerator overnight. Whip in butter until smooth; set aside.
Sliced Almonds
Preheat oven to 340°F (170°C). Spread almonds on a dry cookie sheet, bake 4 minutes. Shake pan to shift almonds every minute to check for slight browning and fragrant aroma; when done, remove from oven and immediately pour onto a room temperature plate. Set aside, leaving oven on to bake sponge.
Sponge
Whip egg whites and powdered sugar until stiff peaks form. Sift in almond flour, mix carefully until just combined, place mixture in springform pan lined with parchment paper; bake 30 minutes. Let cool completely in pan before removing sides and slicing into three horizontal layers. Layer vanilla cream filling between sponge layers, then cover top and sides of cake with remaining filling and sliced almonds.
Prep time: 20 minutes.
Cook time: 1 hour 30 minutes.
Makes 8 servings.