Pistachio Torta
Italy is the seventh largest producer of pistachios, grown in Sicily where trees flourish in Mt. Etna's volcanic soil. Most of Sicily's pistachios are used in ice cream or pastries. This moist, flavorful cake is incredibly fragrant thanks to the frothy orange blossom whipped creme fraiche that marries beautifully with the distinctive panache of pistachio.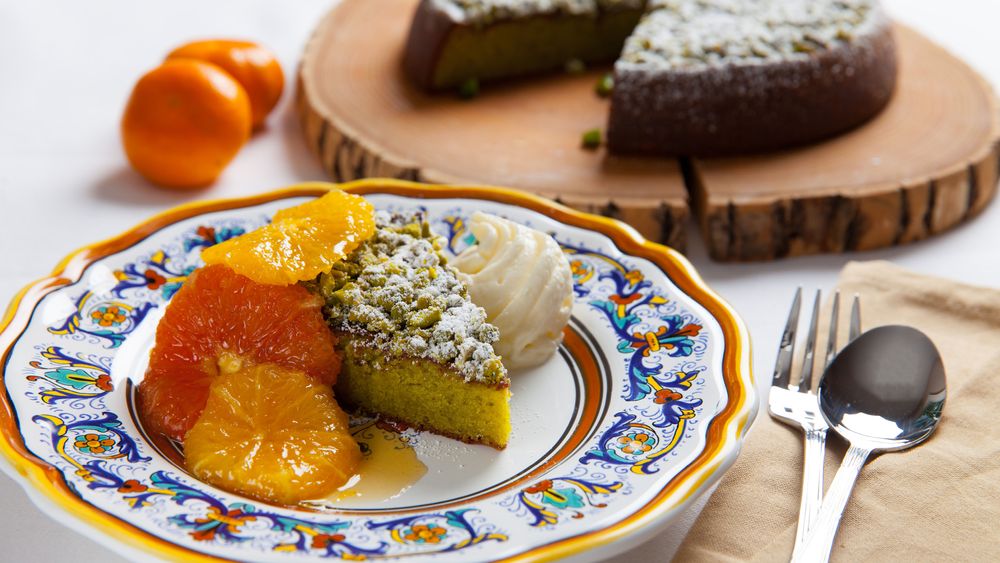 Ingredients
Torta
⅓ C (41 g) flour, plus additional for dusting
½ tsp (2.3 g) baking powder
Pinch of salt
7 oz (198 g) pistachio paste
¼ C (48 g) sugar
8 Tbsp (115 g) unsalted butter, room temperature
2 Tbsp (30 ml) honey
3 lg eggs
2 Tbsp (30 ml) Amaretto liqueur
Panna Acida
8 oz (227 g) crème fraîche
1 tsp (5 ml) orange-blossom water
Honeyed Oranges
2 Tbsp (29 g) unsalted butter
1 Tbsp (12 g) sugar
3 oranges, peeled and cut into ¼-in (6-mm) rounds
⅓ C (78 ml) honey
Pinch of salt
Plating
½ C (62 g) roasted shelled pistachios, chopped
Confectioners' sugar
Directions
Torta
Preheat oven to 350°F (177°C). Line bottom of an 8-inch (20-cm) springform pan with parchment; grease and flour pan, including parchment. In a bowl, whisk together flour, baking powder and salt; set aside. In another bowl, cream together pistachio paste and sugar with paddle attachment on low. Add butter; increase speed to medium and beat until light and fluffy, about 4 minutes. Drizzle in honey, beating continuously. Add eggs one at a time, beating after each addition until completely combined. Beat in Amaretto. Add flour mixture; beat until just combined. Pour into prepared pan; smooth top with a spatula. Bake 25 minutes; let cool 20 minutes before removing ring. Cool cake completely before serving.
Panna Acida
Whisk together crème fraîche and orange-blossom water until it just begins to get stiff; refrigerate.
Honeyed Oranges
In a frying pan, melt butter and sugar over medium until butter begins to foam and brown. Add orange rounds; cook about 1 minute or until edges just begin to caramelize. Add honey and pinch of salt, swirling pan. Remove from pan and either serve immediately or cool to room temperature before serving.
Plating
Top cake with the chopped pistachios and dust with confectioners' sugar. Serve with a side dollop of panna acida and honeyed oranges.
Prep time: 22 minutes.
Cook time: 25 minutes.
Makes 8 servings.