Panko-Crusted Lobster Cake
Rich and succulent inside, with a crunchy coating that is browned in butter, these lobster and crab cakes are a decadent seafood delight.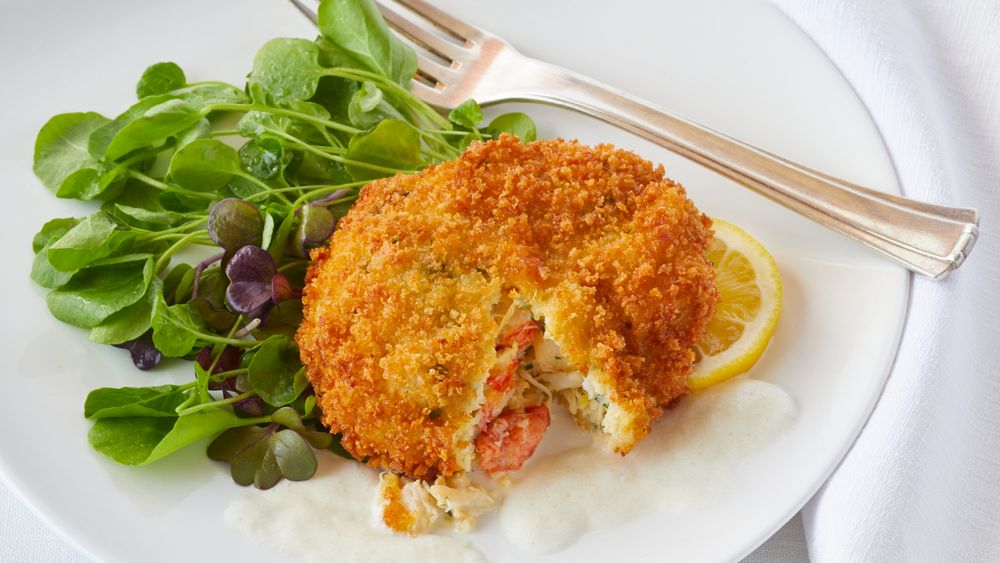 Ingredients
Lobster Cake
1 Tbsp (3 g) flat leaf parsley, finely chopped
1 tsp (6 g) panko
¾ tsp (4 ml) Worcestershire sauce
Zest and juice of ½ lemon
1 tsp (6 g) Dijon mustard
¼ C (60 g) mayonnaise
Cayenne, salt and coarsely ground pepper to taste
2 lg eggs, beaten; with 2 T (30 ml) set aside
7 oz (200 g) lobster tail meat, cooked and diced
3½ oz (100 g) lump crabmeat
½ C (60 g) flour
1¼ C (84 g) panko
8 oz (236 ml) canned lobster broth
½ C (115 g) clarified butter
Garnish
¾ tsp (4 ml) fresh lemon juice
1½ tsp (6 ml) extra virgin olive oil
1¼ C (60 g) cress or micro greens
Directions
Lobster Cake
Combine first six ingredients plus seasonings and 2 T (30 ml) of beaten eggs; fold in lobster and crab; divide into 4 patties. Transfer to parchment-lined baking sheet; refrigerate 5 hours. Next, place remaining beaten eggs, flour and panko separately into three shallow bowls. Dredge cakes in flour, then dip in egg, then panko. Return to baking sheet; chill at least 45 minutes. Just before serving, heat lobster broth. Sauté patties in clarified butter about 2–3 minutes per side until golden. Meanwhile, use an immersion blender to foam lobster broth.
Garnish
Blend lemon juice and olive oil; dress cress or micro greens. Divide lobster broth foam evenly on four plates, top with patty. Garnish with dressed greens and serve immediately.
Prep time: 50 minutes.
Cook time: 1 hour 5 minutes.
Makes 4 servings.