Coconut Shrimp
These crunchy shrimp will make you feel like you just stepped onto a Caribbean beach, with their spicy jerk seasoning complemented by fresh lime juice and the crunch of coconut. The ginger ale and baking soda help to keep the batter light. Be sure to work in batches so as not to crowd the pan and you will get better results.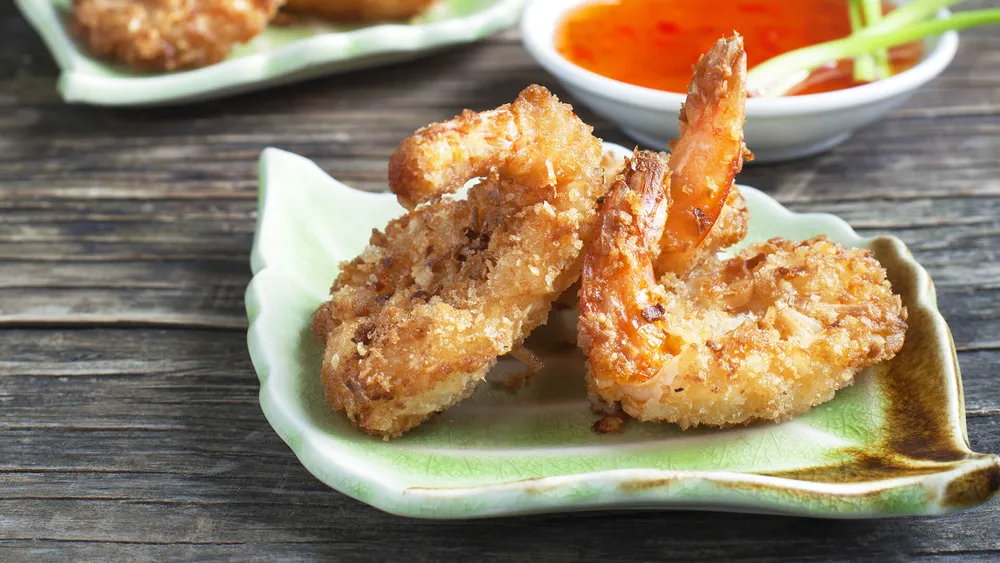 Ingredients
Sauce
½ C (110 g) mayonnaise
2 tsp (10 ml) tomato paste
2 tsp (10 ml) fresh squeezed lime juice
2 tsp (10 ml) honey
½ tsp (2.5 g) jerk seasoning
¼ tsp (2.5 g) salt
Shrimp
Canola oil for frying
1½ C (110 g) unsweetened shredded coconut
⅓ C (33 g) flour
⅓ C (80 ml) ginger ale
1½ tsp (6 g) baking soda
½ tsp (2.5 g) salt
¼–½ tsp (2 g) cayenne pepper to taste
1 lg egg, lightly beaten
1 lb (454 g) large shrimp, peeled and deveined
Directions
Sauce
Combine all sauce ingredients in a small bowl and let stand at least 15 minutes to blend flavors before serving.
Shrimp
In a deep saucepan, heat oil to 350°F (177°C) over medium high. Line a baking sheet with foil. Place coconut in a shallow bowl. In another bowl, combine flour, ginger ale, baking soda, salt, cayenne and egg, stirring until smooth. Dip shrimp in this, then press into coconut; place on baking sheet. Working in batches, place shrimp in hot oil; cook until golden brown, 3–5 minutes; remove; drain on paper towels. Serve immediately with dipping sauce.
Prep time: 10 minutes.
Cook time: 10 minutes.
Makes 8 servings.