Barbadian Fish Cakes
Salt cod cakes are a Barbadian specialty, and because of their popularity, if your cruise calls on that isle, you may get the chance to savor some just-made cakes at a local restaurant. With this recipe, you can bring the taste of Barbados home, along with these spicy island specialties of pickled okra and habañero mayo.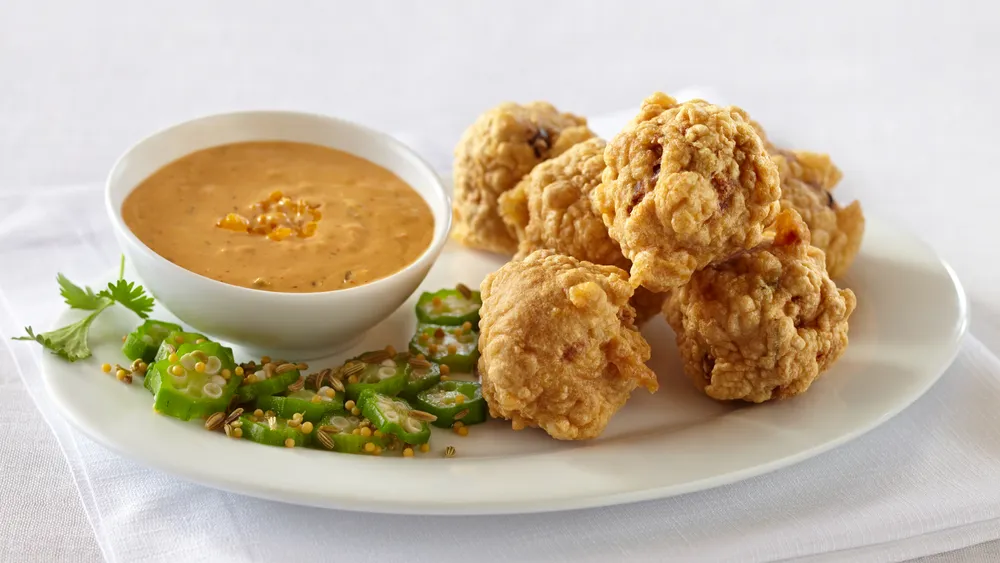 Ingredients
Spicy Pickled Okra
⅓ C (100 ml) white vinegar
1 tsp (6 g) coarse sea salt
3 cloves garlic
½ habañero, cut in half; seeded
½ tsp (2 g) mustard seed
½ tsp (2.5 g) fennel seed
3 okra, rinsed and stems trimmed
Habañero Mayo
1 habañero
2 tsp (10 ml) olive oil
1⅓ C (300 g) mayonnaise
1¼ Tbsp (18 ml) lime juice
Salt and pepper to taste
Fish Cakes
12 oz (340 g) dried, salted cod
4 sprigs thyme
2 bay leaves
1 lemon, cut in half
3 garlic cloves
½ tsp (2.5 g) fennel seed
1 stalk celery
1 yellow onion, cut in half
1⅓ C (166 g) flour
1¼ tsp (14 g) baking powder
1 scallion, chopped fine
¾ tsp (2 g) thyme leaves, chopped fine
½ jalapeño, seeded; chopped fine
1 med potato, peeled, cubed, cooked and mashed
Salt, pepper and cayenne to taste
5 lg eggs
Vegetable oil for deep frying
Plating
Cilantro leaves
2 limes, thinly sliced
Directions
Spicy Pickled Okra
Bring vinegar, salt, garlic, habañero, mustard and fennel seed to a boil over high; reduce; simmer 4 minutes. Pour over okra; cool to room temperature; cover; refrigerate 48 hours. Cut into thin slices before serving.
Habañero Mayo
Preheat oven to 425°F (220°C); line a small baking sheet with parchment paper. Coat habañero with oil; place on baking sheet; cover with foil; bake 25 minutes. Remove from heat; cool; peel, seed. In a food processor, combine with mayonnaise and process until smooth; add lime juice; season to taste with salt and pepper. Chill until ready to use.
Fish Cakes
Cover fish with cold water and soak, refrigerated, about 48 hours, changing water every 6 to 8 hours. Drain; transfer fish to a large pot of cold water. Add thyme sprigs, bay, lemon, 2 garlic cloves, fennel seed, celery and onion. Bring to a simmer; cook 13 minutes; remove from heat. Remove fish from cooking liquid; pat dry and break into small pieces. Sift together flour and baking powder; in a large bowl combine scallions, thyme leaves, jalapeño and remaining garlic; add potato, stirring to combine. Season to taste with salt, pepper and cayenne; gently mix in fish until just blended. Beat eggs until fluffy, about 10 minutes; fold in flour mixture. Meanwhile, heat vegetable oil in a deep fryer or a deep medium saucepan on medium high. Break up cod mixture into small pieces; fold into egg mixture. Drop batter by large spoonfuls into oil; do not overcrowd. Fry, turning to cook evenly, about 4 minutes or until golden brown. Remove from oil with a slotted spoon; drain on paper towels; sprinkle with salt to taste.
Plating
Drizzle habañero mayo on plate; arrange fish cakes on top, dot with slices of pickled okra, and garnish with lime and cilantro.
Prep time: 35 minutes.
Cook time: 46 minutes.
Makes 8 servings.