Porcini Dry-Rubbed Rib Eye
Using porcini in this rub adds an earthy quality that is both rustic and satisfying. Be sure to bring the steaks to room temperature before grilling for best results. If you are going to follow the Italian tradition to the letter, serve these rare. The peppery arugula is an excellent complement to the flavorful meat.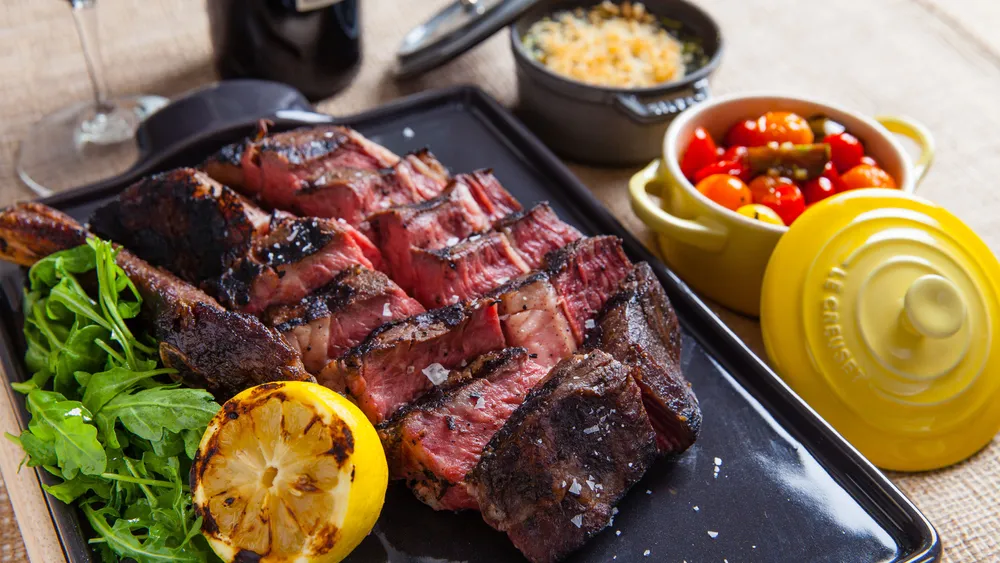 Ingredients
Steak
4 lb (1.8 kg) bone-in rib eye steaks, 2 in (5.1 cm) thick
Extra virgin olive oil
½ C (6 g) dry porcini mushrooms
2 Tbsp (25 g) light brown sugar
1 Tbsp (10 g) ground pepper
2 tsp (6 g) red chili flakes
1 Tbsp (15 g) kosher salt
2 tsp (5 g) garlic powder
Plating
2 lemons, quartered
2 C (40 g) loosely packed arugula
Extra virgin olive oil
Sea salt flakes
Freshly ground pepper
Directions
Steak
Brush steaks with oil; set aside. Grind porcini in a food processor until fine; transfer to bowl and add sugar, pepper, chili flakes, salt and garlic powder; combine. Generously sprinkle mix on steaks (save any extra for other use), and rub into meat. Place steaks in a resealable plastic bag, squeezing out as much air as possible, and refrigerate at least 8 hours or up to 2 days.
Preheat grill to medium. Drain any liquid from steaks; pat dry gently. Let stand at room temperature 20 minutes before grilling to your desired degree of doneness. Let rest tented with foil 5 minutes before slicing. Meanwhile, grill lemons until well marked. Place arugula in a medium bowl and squeeze one of grilled lemon pieces over the top. Drizzle with oil, sprinkle with salt and pepper; toss.
Plating
Slice steak and fan out on a plate, sprinkling with a little sea salt. Garnish with grilled lemon quarter and serve salad alongside.
Prep time: 8 minutes.
Cook time: 15–20 minutes.
Makes 6 servings.